There is a huge range of variety if you are looking for boxing gloves to use for sparring. The most important thing to remember for training is that you want to reduce risk of injury for you and the person you are sparring with, the last thing anyone wants to do is pick up injuries during training.
Gloves protect your hands and your opponents' body and face. Using the correct gloves for sparring is essential to minimise injury and therefore enable you to continue training.
When boxing in a bout professionals and amateurs will typically use 8oz to 12oz gloves, white collar boxers typically use 16oz boxing gloves. It's important to understand that when professional boxers spar they use big 16oz boxing gloves to avoid injuries, so when you are sparring it's logical to do as they do and use 16oz gloves; there is absolutely no logic in using small gloves to spar and getting injured regularly.
So, we have established that for sparring you should use 16oz gloves for maximum safety. It's now a good idea to look at the various gloves available. There are 2 main fillings for gloves:
Horse hair – Well, not actually just horse hair anymore. Old gloves used to be purely filled with horse hair, but this offered little protection so now 'horse hair' gloves have a combination of horse hair and polyurethane foam, like this.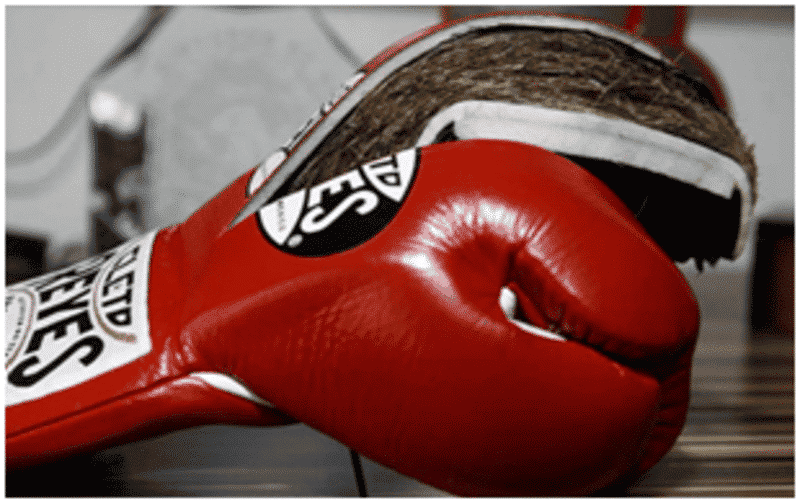 Foam – Most gloves are filled with foam, that said there is a huge range of foams available, they are typically either injection moulded or layered. There is also a huge range of density in foams available. If you look at cheap gloves sold in some high street stores, you will feel that the foam is incredibly soft, when your knuckles impact someone's face the foam simply compresses and offers little protection to either of you. For sparring, you want to buy gloves that use a 'high-density safe spar' type of foam. This type of foam will give you maximum protection and help reduce the risk of injury.
UWCB has been running events since 2009 and tried using all the major brands of boxing gloves over the years, we quickly came to realise many years ago that not all 16oz gloves offer the same protection. We spent a lot of time developing the perfect glove for our events to make them as safe as possible. The gloves weigh 16oz, uses a high density 'safe spar' foam, and has the foam over the knuckles where you need it for protection. Our priority at all events is to make it safe for participants, and the gloves we specifically developed drastically reduced injury.
We then realised that getting the safest gloves for training would also reduce the risk of injury during training and started to sell these gloves with the following key features to make them as safe as possible for sparring:
16oz gloves.
Safe spar foam.
Padding over knuckles.
We sell over 5,000 pairs of these gloves every year for people taking part in our events and they always have rave reviews, successfully reducing injury risk during boxing training and sparring.